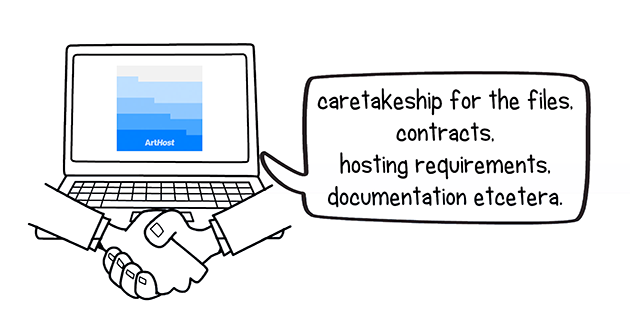 WATCH VIDEO
More Info
In addition to the challenges that digital art in general has to deal with (including bit rot, obsolescence of carriers and equipment, compatibility, etc.), a number of additional specific issues need to be taken into account when conserving net art. The disappearance or replacement of plug-ins, system updates, licensing, renewal of domain names, bugs and errors in the software and the possibility of hacking and viruses make internet artworks extra vulnerable.
It is these kinds of potential changes that not only pose a risk to survival, but also affect, for example, the aesthetics of a work. This requires constant attention. The archiving of websites can be done via the technique called harvesting. Here, web pages (including images, design, and downloadable documents) are retrieved from the web server using special software. This harvesters approaches the website like a user and 'sees' the website at the front: on the client-side. ArtHost offers server-side archiving, especially the backbone is archived.
The Arthost service is, a for-pay offering, to take care of net art pieces, including documentation, hosting, management of DNS, etc. We will improve the service on a continuous basis also by offering remote browsers, an open source framework developed at Rhizome, to have the artworks render in the right environment.
Any questions or need some help, please contact us at .